Modifying SSRS and FetchXML Reports.
XrmToolkit allows you to download and publish both SSRS and FetchXML based reports. To determine which version of Visual Studio you need along with any prerequisites from Microsoft, please see the sections below:
Downloading Reports to Visual Studio
To download reports to Visual Studio, right-click on the Report Project in the Visual Studio Solution Explorer window and select the 'Add Reports to Project' button:

Pressing this button shows the following window: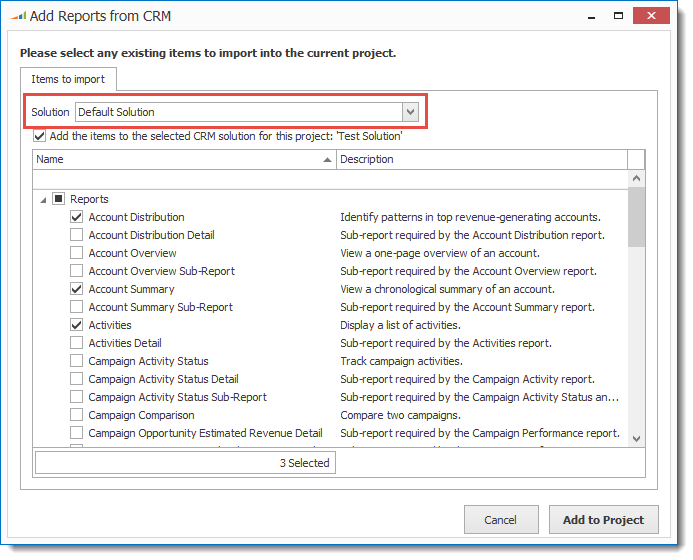 You can filter the reports by using the 'Solution' dropdown. After selecting the reports that you want to download, press the 'Add To Project' button. The report/s are now added to your project as shown below.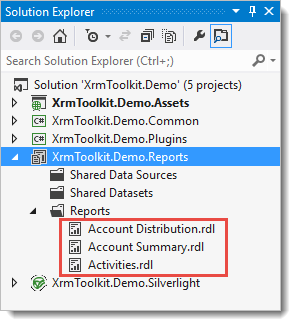 To learn about using Visual Studio to modify or create reports, see Microsoft's documentation found here.
When working in VS2017 or VS2015, it is necessary to change the 'TargetServerVersion' of the project to be one of the following:
SQL Server 2008
SQL Server 2008 R2, 2012 or 2014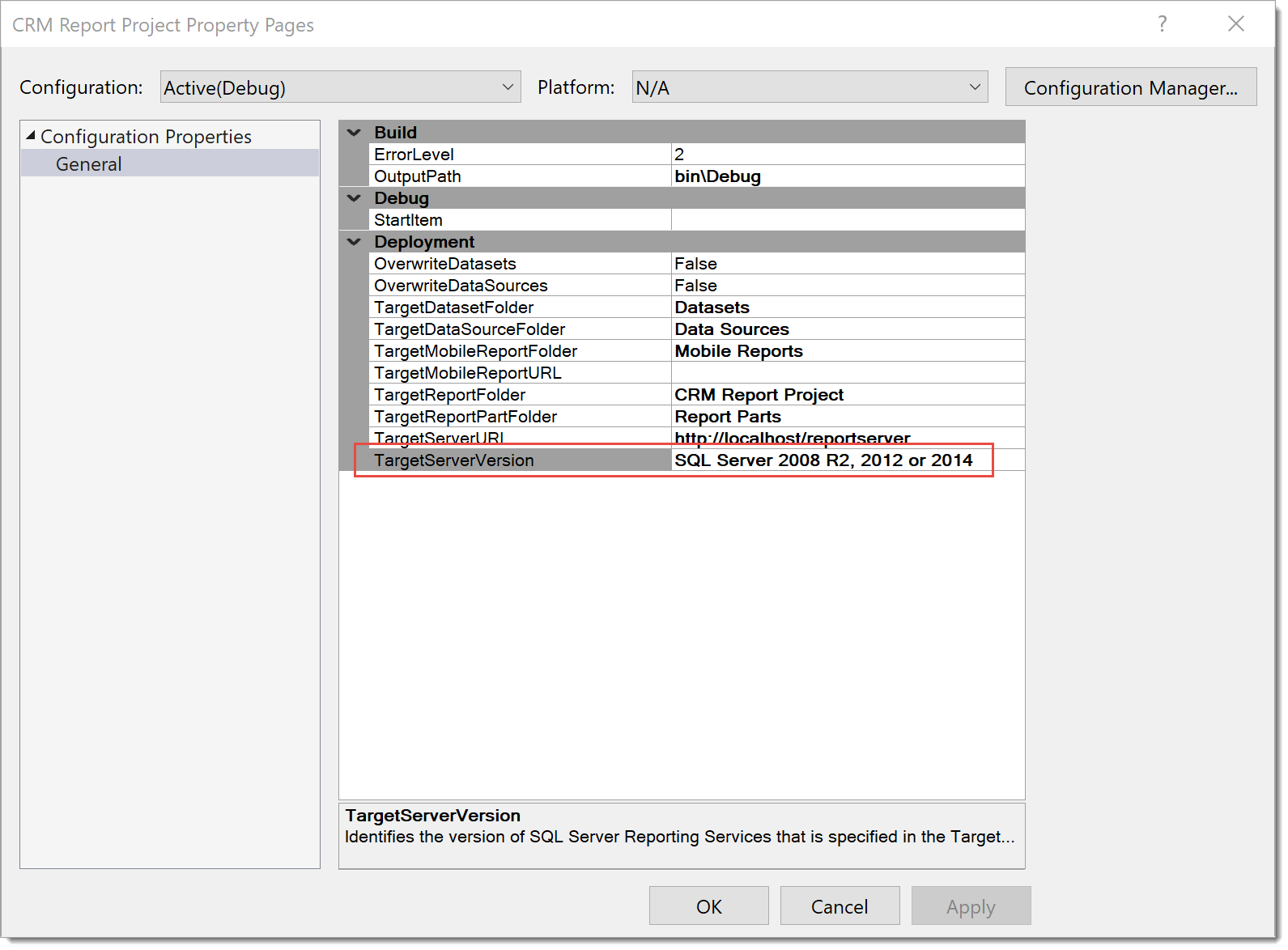 Dynamics 365 is not yet compatible with SQL Server >= 2016 and so the reports must target an earlier version of SQL Server. This also means that in order for the version that is compatible to get published to D365, you MUST build the project before each publish. This produces the correct version in the 'bin' folder which XrmToolkit will use to publish to D365. If the report is linked to D365 then XrmToolkit will automatically build the report project before publishing the report to D365.
If you fail to change perform these actions then you may recieve an error similar to the following:

Prerequisites for working with SSRS Reports
You can use Visual Studio 2013, 2015, and 2017 to edit and publish SSRS reports to CRM. However, there are some prerequisites that must be downloaded and installed from Microsoft first in order to be able to do so.
Visual Studio 2017 Prerequisites
Visual Studio 2015 Prerequisites
Visual Studio 2013 Prerequisites
Prerequisites for working with FetchXML Reports
FetchXML reports require that you install the same prerequisites specified above in the 'Prerequisites for working with SSRS Reports' section for your version of Visual Studio.
FetchXML reports cannot be edited in Visual Studio 2017 at this time. This is not a limitation of XrmToolkit but rather a limitation of the "Report Authoring Extension" provided by Microsoft for editing FetchXML reports within Visual Studio. You must install this in order to be able to edit FetchXML reports from within Visual Studio. To do so you can download it from Microsoft's site below:
Visual Studio 2013 and 2015
When Microsoft updates this extension to be compatible with Visual Studio 2017, XrmToolkit will support this.